I always had a weakness for the video game genre "party", designed for the entertainment company of friends. It's one thing to go through story games in proud solitude and quite another – to share your joy with people close to you. This includes dance projects like Just Dance and Dance Central, karaoke games like SingStar and, of course, quiz games. It's about one such game for the PlayStation 4 console that I would very much like to tell you today. It is called "Knowledge is Power" (Knowledge is Power), and I'm just sure that this game is able to give you and your friends many wonderful evenings at the TV screen.
Game: "Knowledge is Power"
Platform: PlayStation 4
Genre: Quiz
Release date: November 29, 2017
Developer: Wish Studios
Publisher: Sony Interactive Entertainment
My favorite quiz up to this day was a series of games Buzz !, created by British studio Relentless Software for consoles PlayStation 2, PlayStation 3 and PlayStation Portable. These games, as a rule, were sold complete with special controllers with multi-colored buttons. Each player picked up on such a controller and could participate in the quiz, choosing the right answers to the questions. Just two games Buzz! from the whole series were translated into Russian and released in Russia in an incredibly small number of copies. Buy today, this set is very difficult, because its cost due to rarity can reach up to 40,000 rubles and more. Fortunately, I have such a set in stock, and periodically we with friends are measuring each other with erudition during the fun parties.
To my great regret, the studio Relentless Software fell apart in 2016 due to financial difficulties and internal disagreements. But her former employees did not waste time and founded two new studios to start everything from scratch. The first studio was called Snap Finger Click and immediately released a multi-platform quiz It's Quiz Time, which, sadly, was never translated into Russian. And the second studio Wish Studios remained true to the platforms of Sony, and not without the help of the Japanese publisher, first created a fun sociable game "It's you!", Which I told you about recently , and then decided to shake the old days and released the quiz "Knowledge is Strength" in the spirit the very Buzz !, which we all remember and love.
Do not forget that we have another project, released by Sony within their new technology PlayLink. This means that as controllers you need to use not DualShock 4, but mobile gadgets: tablets, phallets and smartphones. The game begins with the fact that players (here they can be from two to six people) upload to their smartphones an official application from Google Play and the App Store. Unfortunately, the owners of smartphones running Windows Phone are disappointed – their devices are not supported by the game. After the application is installed on all devices, you need to launch it and connect your gadgets to the same Wi-Fi point as your PlayStation 4 console. If you do not have a Wi-Fi router, the console can emulate the access point itself, giving out you have its name and password. Once all the preparatory stages have been completed – you can start the game.
Each player must choose a unique avatar and enter his name using the keyboard on the smartphone screen. The TV screen at this point serves as a kind of "common hub", in which a cheerful host named Max encourages players and explains the rules of the game to them. Among the characters, there are eight bright personalities: a goth girl, a hot dog man, a harsh bearded mountaineer, an alien and others. Something tells me that in the future, developers are planning to smoothly introduce new heroes into the game. All of them differ in the style of behavior during the game, unique facial expressions, ridiculous antics and gesticulations. Everything is exactly the same as before in the Buzz! Series, so fans of old Wish studio work will be pleased.
Each quiz is divided into 12 levels, 8 of which are questions on various topics, 2 are special rounds, which we'll talk about below, and the final 12 level is the final, during which players must demonstrate to each other all their skills in battle for the right to become a winner. Before asking a question, the facilitator invites players to vote and choose the topic of the next round question. Before the participants appear four doors (just like in the cartoon "Monsters Corporation"), each of which is signed by the title of the topic of the next question. This can be "Cinema", "History", "Sport", "Science", "Art" and dozens of other options. Players choose the theme closest to them and stand near the corresponding door. That theme, for which the majority voted, wins. If only two people play the game, and while they choose different topics – the game includes a randomizer. There are a lot of thematic topics, as, indeed, the questions themselves. The developers claim that there are several thousand of them in the game, and this will be enough for long months of entertainment.
Answer the questions as follows: on the screen, the presenter shows you a question (he may well be accompanied by a photo / illustration), and on the players' smartphones there are four options for an answer. We poke a finger at the correct, in our opinion, answer and at the same time try not to show your choice to other participants, so that they do not exploit your knowledge. In case the answer is correct, you get prize points. And the faster you answered, the more points you get. There is in the game one very interesting detail, the so-called Power Plays, or "podlyanki", if we speak in clear language. Before each round, you can choose one of six such pods and throw it to another player of your choice. For example, you can freeze his buttons with answers, and he will not be able to click on the correct answer until he breaks the ice with his fingers. Or you can put a tiny rodent on it, which naturally will devour some letters in the answers, interfering with the understanding of what was written. Players will constantly interfere with each other's success, and this, undoubtedly, lies one of the entertainment factors of the game "Knowledge is Power".
Very original in the game performed the so-called special rounds. There are only two of them. The first one is called "Connections", and players are offered on the smartphone's screen for speed to compare different parts of anything with something else. For example, in the upper part there are the names of the actors, and just below – the different roles that these actors played in their careers. You must connect each actor with his role, while trying not to be mistaken. In fact, this is a very exciting activity, dragging you into the game with your head. I stayed with this round very satisfied. However, the second special round "Sorting" I also liked. In the center of the smartphone screen appear different names, let it be the names of composers and artists. And you must sort them by memory into those who write pictures and those who compose music. To do this, just need to swipe the names in the left or right side of the screen (they are signed, so do not get lost). It seems that everything is pretty straightforward, but you would see what it's all about in action!
At the end of the players waiting for the Grand Finale, when they are asked to answer a series of questions, with every correct answer rising ever higher to the improvised "Pyramid of Knowledge". The faster you answer correctly, the higher you climb on its steps, in parallel, without forgetting to throw up various podlyanki opponents. There is another special mode in the game – "Quick Quiz", when with just one smartphone players can split into two teams and play against each other, passing it in turn to different participants. In this case, you do not even need a TV, everything will happen right on your smartphone screen. This regime, in my opinion, is not as interesting as the main one. However, it will suit you in the event that someone from home suddenly occupies the TV to watch your favorite TV show or news.
Graphics in the game is not particularly intricate, but it is bright and high-quality. Characters are perfectly animated, backgrounds are carefully worked out and full of details. Special effects look nice and do not get out of the picture. And what else was worth waiting for from the quiz for the merry company? This is not an AAA game with an open world like Horizon Zero Dawn, but a niche project for those who want to stretch their gray matter a little. How am I glad that such clever games in general exist and have not yet died out amid popular, but for the most part completely soulless genres such as first-person shooters. Yes, and the cost of "Knowledge is power" will pleasantly please many. The game will cost you ridiculous by today's standards of 1299 rubles. It's a pity that our game will be available only to our readers on November 29 (journalists are sent copies of the games a little earlier).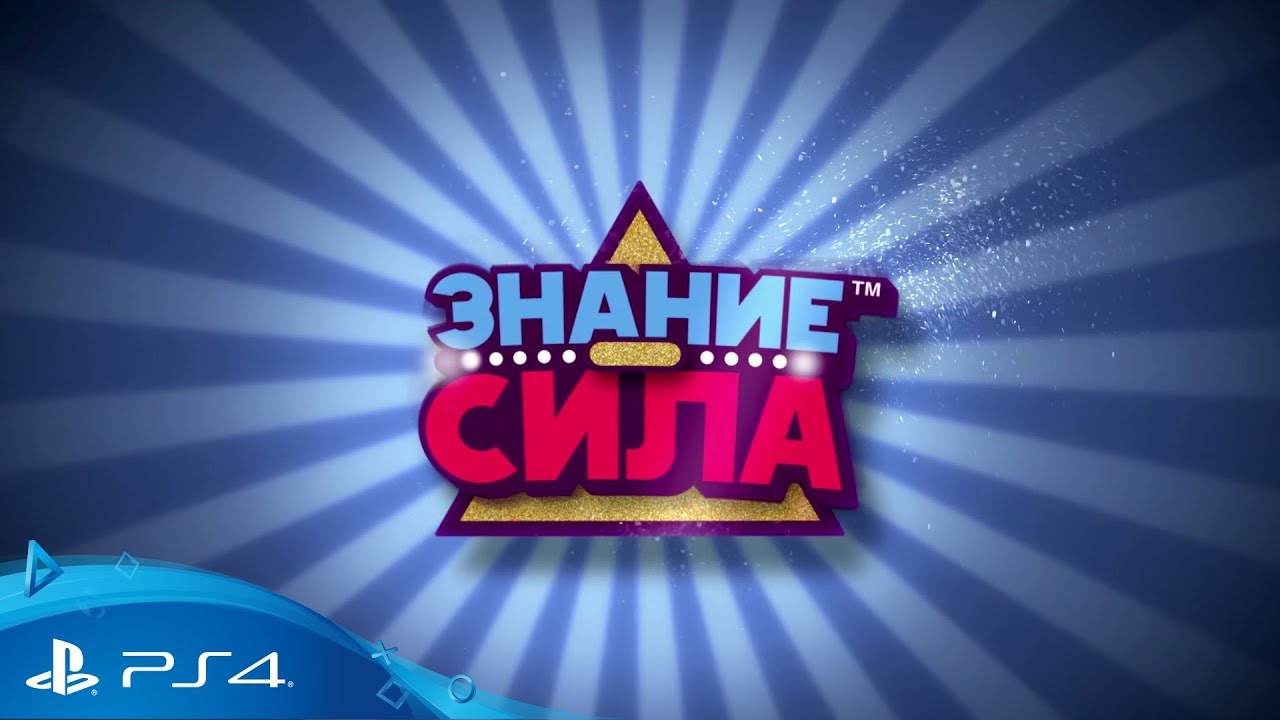 Pros:
An ideal way to entertain yourself and your friends at a party.
The game not only entertains, but also makes players significantly smarter.
A huge number of interesting questions on a variety of topics.
Anyone who has a smartphone can play the game.
There is a bonus mode of the game "Team for Team".
The ability to plot against other players.
Excellent graphics, animation and memorable characters.
Low cost of the game in the PlayStation Store.
Worthy heir of the Buzz series!
Minuses:
The game process between rounds is somewhat delayed.
There is no support for smartphones running Windows Phone.
"Knowledge is power" is a great entertainment for a friendly company, when you can flatter your friends in a particular subject, be it modern cinema, the scientific world, nature, literature or politics. The game, of course, has small drawbacks. For example, it is unfriendly to the owners of smartphones running Windows Phone, and between rounds the gameplay is sometimes felt too slow and unhurried than quickly starts to annoy. Nevertheless, Knowledge is Power is very clever, funny and mischievous, perfectly translated into Russian (do not be afraid of screenshots with the English text – I simply did not have time to do it myself), and in general – quickly draws players with extremely additive gameplay. I've been waiting for something like this for the PlayStation 4 and finally I've waited. I strongly recommend the game to all those, who is tired of the monotony of the modern gaming industry. And put her9 out of 10 points . Play in a really good, smart game.